Use Flourish with our suggested recipes to achieve a balanced diet for your dog, or add to your own meals for a big nutrient boost.

Measure 1g of Flourish per kilogram of body weight per day.
Mix well into your dog's home prepared meal at serving temperature.
eg. A 12kg dog would require a serving size of 12g of Flourish added to their meal daily.
Lentils, Quinoa & Pumpkin Bowl
This 800kcal recipe is based on a 20kg dog with light exercise.
Ingredients
425g cooked lentils
150g cooked quinoa
100g raw spinach
200g cooked pumpkin
Optional: add a small amount of hemp seed oil or flax seed oil for an Omega-3 boost.
Instructions
Blend the cooked lentils, cooked quinoa, raw spinach and cooked pumpkin. Allow ingredients to cool to room temperature.
Mix Flourish Plant Based food supplement into meal thoroughly before serving.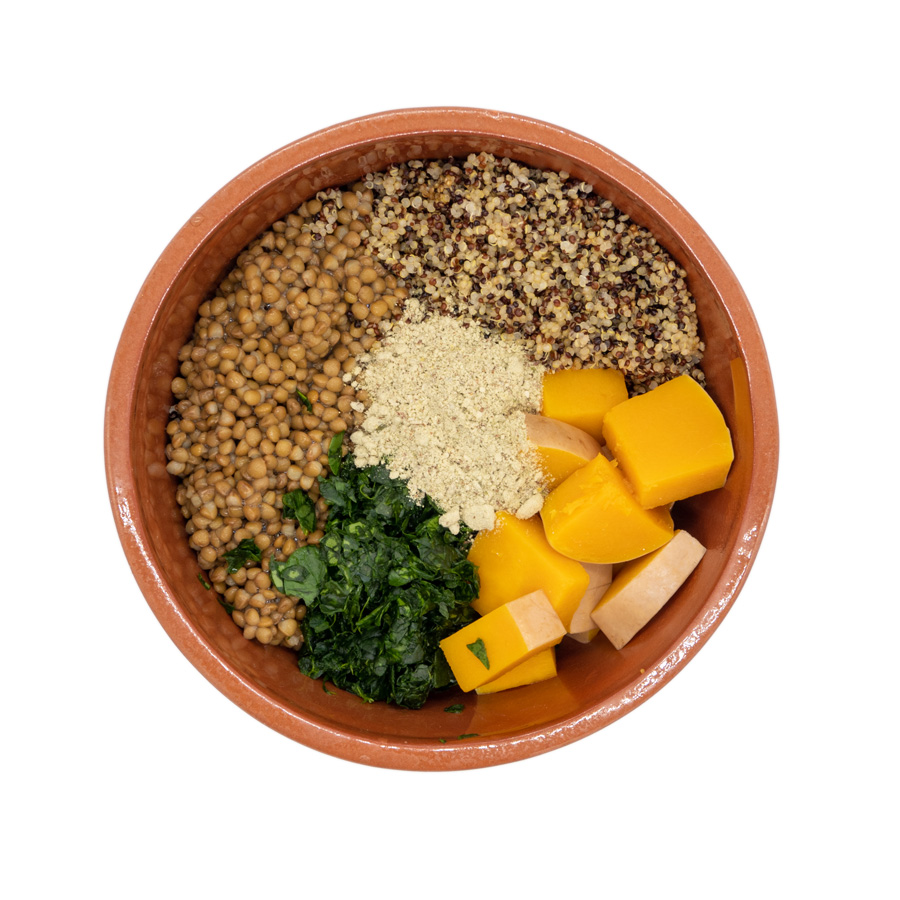 This recipe is an entire day's serving of food. You can:
Serve one full meal a day

Serve half in the morning, and half at night.
This recipe is calculated to meet the NRC nutritional guidelines for a theoretical adult 20kg dog who does light exercise. Please scale this meal according to your dog's weight and activity levels.
Energy – 804.1kcal | Protein – 51.8g | Calcium – 826.7mg | Iron – 21.2mg | Magnesium – 397.9mg | Phosphorus – 1206.2mg | Potassium – 2954.8mg | Sodium – 1421.3mg | Zinc – 10.5mg | Copper – 2mg | Manganese – 7.7mg | Selenium – 78.7µg | Iodine – 140ug | Thiamin – 1.4mg | Riboflavin – 7.4mg | Niacin – 12.9mg | Pantothenic acid – 4.2mg | Pyridoxine – 2.3mg | Folic acid – 1053.8µg | B12 – 8.5ug | Vitamin A, RAE – 1043.2µg | Vitamin A, IU – 9423.4IU | Vitamin E – 11mg | Vitamin D3 – 3.1µg | Vitamin K – 492.9µg | Tryptophan – 0.5g | Threonine – 1.8g | Isoleucine – 2.2g | Leucine – 3.6g | Lysine – 3.3g | Methionine + Cystine – 0.6g | Phenylalanine + Tyrosine – 2.5g | Valine – 2.5g | Arginine – 4g | Histidine – 1.4g | l-Carnitine – 604.2mg | Taurine – 604.2mg
Nutritional data was calculated from USDA FoodData Central and calculated according to the NRC nutritional guidelines for a dog of the specified calories. Nutritional values of the listed foods in this recipe may vary from region to region and the information included in the nutrition panel should be used as a guide. The values provided are based on the nutritional content of the recipe and the actual digestibility and nutrient uptake of plant matter may vary from dog to dog. Individual dogs of the specified energy expenditure and weight will vary slightly in their caloric needs and the above quantities may need to be adjusted accordingly.  This recipe is not designed to diagnose or treat disease. Please seek veterinary advice if you are concerned about the health and condition of your dog.
Looking for more recipes? Our canine nutritionist, Functional Canine, has a recipe database including plant-based options available at her website: jacquelineterez.com. Custom nutrition consults are also available. Fees apply.
When used in conjunction with our suggested recipe, Flourish is designed to provide a balanced diet for your dog. However, all dogs are different and some may have different nutritional needs and requirements. As such, we recommend consulting with your veterinarian before beginning a new food routine. Always maintain regular checkups with your vet.