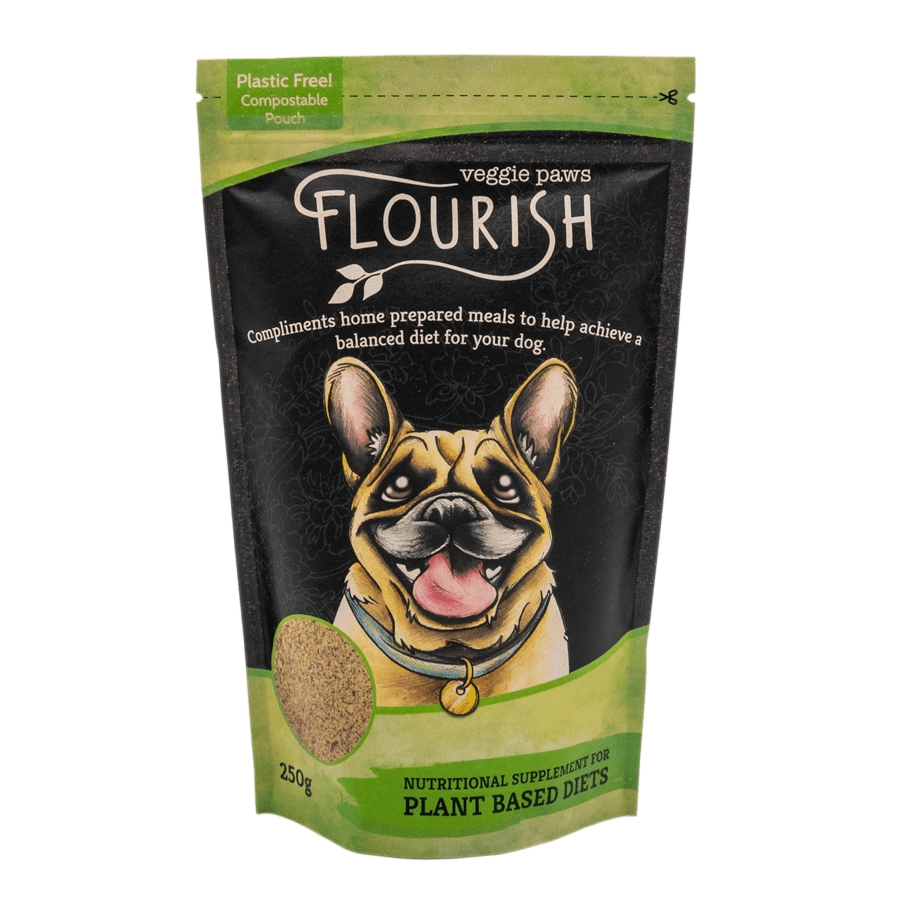 Veggie Paws Flourish | Vegan Supplement for Dogs.
Wholefood supplement with added taurine, l-carnitine, and B-12.
What is Flourish
Flourish for Plant Based diets is a vegan supplement for dogs made from a comprehensive blend of nutrient rich ingredients such as seeds, nuts, wheatgrass and kelp. It is carefully formulated to help achieve a balanced diet for your dog by addressing common nutrient deficiencies in homemade vegan meals.
Why use Flourish
Adding Flourish to your dog's homemade meal is a simple, healthy way to help your dog achieve optimal nutrition. Flourish contains micronutrients that may be lacking in your dog's diet, such as selenium, manganese, iodine, taurine, l-carnitine, and B-12. Use our suggested recipes for a balanced diet or add to your own meals for a big nutrient boost!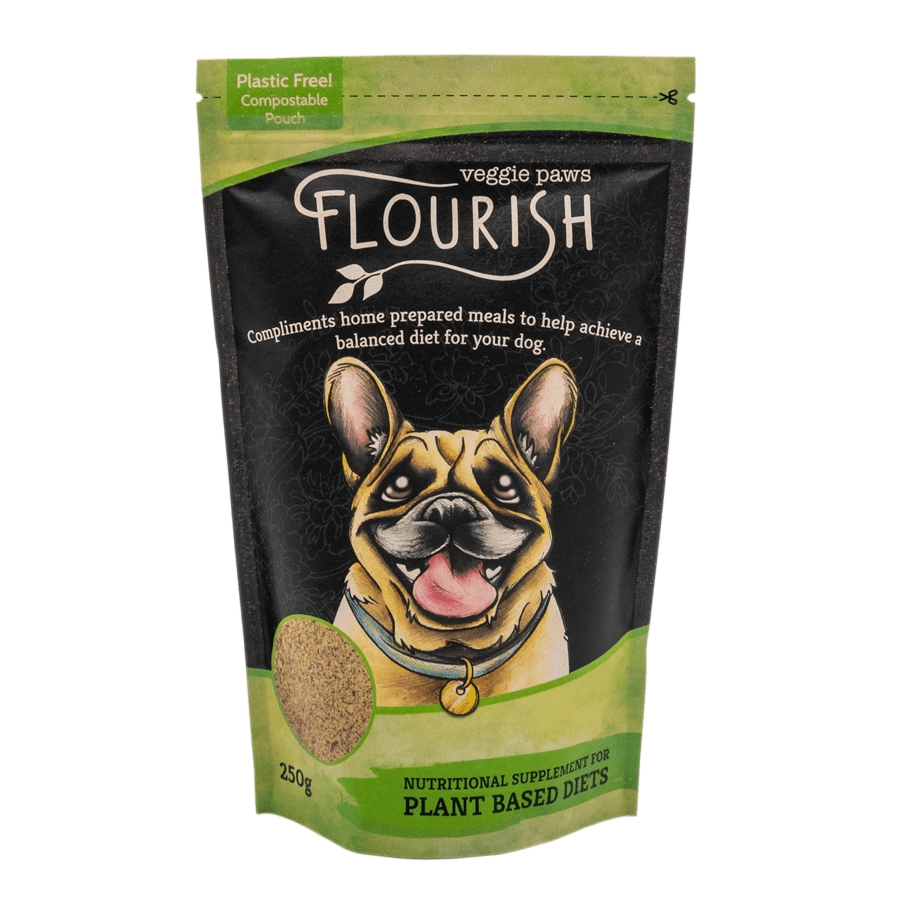 Plant Based Diets
As omnivores, dogs can eat both meat and plants. Most healthy dogs can thrive on a plant-based vegan diet under the supervision of a veterinary professional. However, it is vitally important to ensure your dog is receiving the correct nutrients, and supplementation is essential if you are feeding your dog home prepared meals.
Formulated by a specialist in dog nutrition, Flourish for Plant Based Diets targets the common deficiencies in home prepared meals and provides your dog with a source of vital nutrients and amino acids such as calcium, zinc, selenium, vitamin B12, taurine and l-carnitine.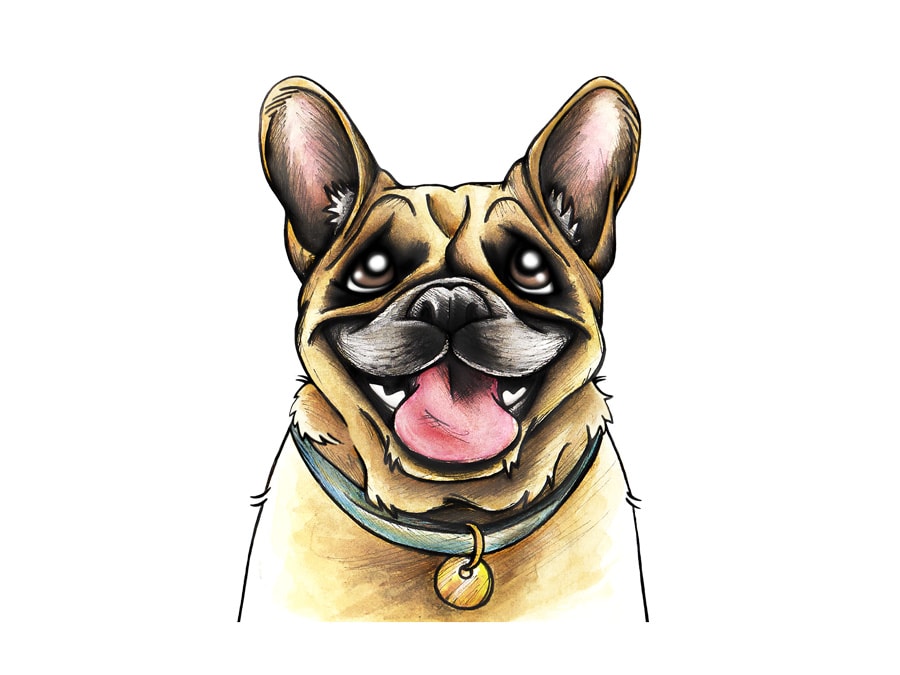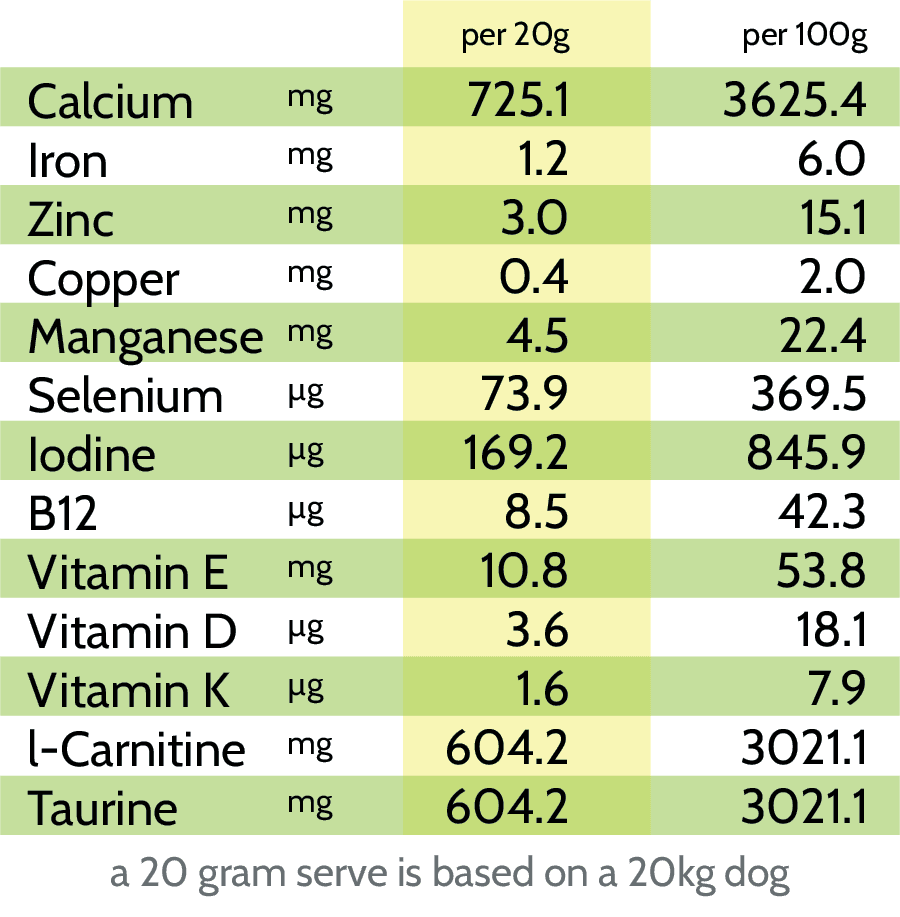 Energy | 91.58 cal

Protein | 3.08g

Fat total | 7.49g

Fat saturated | 1.22g

Carbohydrates total | 4.59g

Sugar | 0.28g

Sodium | 3.29mg
Energy | 457.89 cal

Protein | 15.41g

Fat total | 37.46g

Fat saturated | 6.10g

Carbohydrates total | 22.96g

Sugar | 1.39g

Sodium | 16.44mg
The reported nutritional values of Flourish are based on data collected from the USDA FoodData Central. The information included in the nutrition panels should be used as a guide. The values provided are based on the nutritional content of Flourish and the actual digestibility and nutrient uptake of plant matter may vary from dog to dog. If your dog is on medication or has any kind of medical condition, seek veterinary advice before adding supplementation to their diet. Always monitor the health and condition of your dog and work closely with your vet.
This recipe is based on a 20kg dog.
Ingredients
425g cooked lentils
150g cooked quinoa
100g raw spinach
200g cooked pumpkin
Instructions
Blend the cooked lentils, cooked quinoa, raw spinach and cooked pumpkin. Allow ingredients to cool to room temperature. Mix Flourish Plant Based food supplement into meal thoroughly before serving.
This recipe provides all of your dog's nutritional requirements for an entire day. If you feed your dog morning and night, you should feed half of this recipe in the morning, and half at night. Alternatively, you may choose to feed a commercially prepared food for one meal a day and half of this recipe for the other meal. Please scale this meal according to your dog's weight.
Energy - 804.1kcal | Protein - 51.8g | Calcium - 826.7mg | Iron - 21.2mg | Magnesium - 397.9mg | Phosphorus - 1206.2mg | Potassium - 2954.8mg | Sodium - 1421.3mg | Zinc - 10.5mg | Copper - 2mg | Manganese - 7.7mg | Selenium - 78.7µg | Iodine - 140ug | Thiamin - 1.4mg | Riboflavin - 7.4mg | Niacin - 12.9mg | Pantothenic acid - 4.2mg | Pyridoxine - 2.3mg | Folic acid - 1053.8µg | B12 - 8.5ug | Vitamin A, RAE - 1043.2µg | Vitamin A, IU - 9423.4IU | Vitamin E - 11mg | Vitamin D3 - 3.1µg | Vitamin K - 492.9µg | Tryptophan - 0.5g | Threonine - 1.8g | Isoleucine - 2.2g | Leucine - 3.6g | Lysine - 3.3g | Methionine + Cystine - 0.6g | Phenylalanine + Tyrosine - 2.5g | Valine - 2.5g | Arginine - 4g | Histidine - 1.4g | l-Carnitine - 604.2mg | Taurine - 604.2mg
*values calculated from a nutritional database to meet NRC standards. Values are approximate and there may be seasonal variation in ingredient values.
When used in conjunction with our suggested recipe, Flourish is designed to provide a balanced diet for your dog. However, all dogs are different and some may have different nutritional needs and requirements. As such, we recommend consulting with your veterinarian before beginning a new food routine. Always maintain regular checkups with your vet.